Ken Buttery
Ken Buttery combines technical expertise with 20 years of industry knowledge and relationship development to lead the sales and marketing initiatives for ProcessBarron and Southern Field EEC.
Do you know the hard work it takes to run a company that produces products that are the source materials to make other products? And, do you often hear words like "organic raw materials, engineered processes, technical applications, and mechanical equipment"?  If this sounds familiar, then you might be working for an industrial manufacturing company.
Industrial manufacturing is composed of many segments that make up primary and/or secondary industry sectors of our economy. The metrics used for determining success can be placed into five general categories. While some have a stronger focus on three or four of these key performance metrics, the bottom line success is dependent on all of them.
As a manufacturer, we identify with these common KPIs. We provide custom-made products and solutions for industrial manufacturing clients. And, all of our solutions are designed and made in the USA. Our strengths lie in our extensive knowledge of how we can help our customers reach their success metrics with a heightened focus on the precision and urgency required of the most intense industrial manufacturing segments: pulp & paper, cement, steel, biomass, and energy.
The past year brought many unique challenges that shifted the way we adjusted our operations to meet demand fluctuations and to ensure the health and safety of our employees and clients. Our focus remained on serving our customers' needs as they navigated the COVID-19 crisis and continues as we face new threats of the Delta variant. As we begin to see signs of economic rebirth, the plants we serve are faced with additional issues that compound the pressure of meeting success metrics that are now mixed into an operating environment that is saddled with delayed capital expenditures, increased demand, and labor shortages.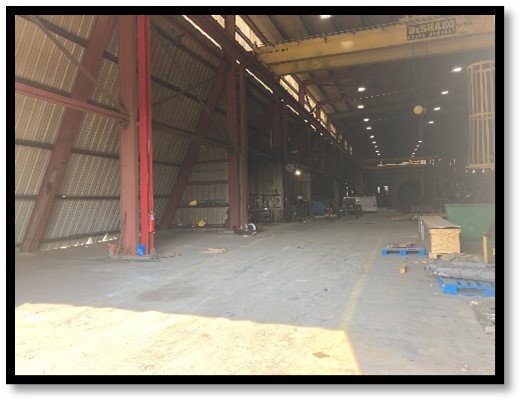 In an effort to better serve these new challenges, we've made some significant infrastructure investments to support our clients as we emerge from 2020. To provide increased efficiency in equipment manufacturing and service, we doubled our shop space which includes a designated area to perform our Inspect, Advise, and Quote service.
The Inspect, Advise, and Quote (IAQ) service combines our company's broad industry knowledge, diverse experience, and thorough technical expertise to provide:
Efficient processes based on LEAN principles
Accurate and precise evaluations based on equipment integrity standards
Technically superior solutions
Quick Repair delivered via dedicated IAQ team and workspace
Inspection is the step in the process which determines current conditions of the equipment and makes some decisions as to viability of repair.
Advise: after the equipment has been inspected, using known and documented standards, we communicate our findings with the customer and recommend the best path forward.
Quote: based on inspection findings and feedback from the customer, we quote the best alternatives for moving forward with the piece of equipment.
The IAQ service creates opportunities to effectively plan outages and maintenance cycles that include specific plans for equipment to be serviced and repaired. Its focus on overall equipment effectiveness will provide solutions that help drive your KPIs through increased reliability and efficiency as well as reduced production losses, expenses, and CO2.
Proper Care is Everything (examples of some of our current IAQ projects):
For more information on the things we are doing to better serve our customer or additional detail about our Inspect, Advise and Quote program, click to: Find Your Sales Contact.